ANY Day there is no School is Camp Day at The Ranch!
---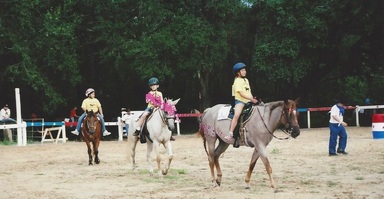 Ages 5, 6, 7 and 8 $79 a day 9:15 - 3:45 - Color Group: Green
Ages 9, 10 and 11 $59 a day 8:00 - 5:00 - Color Group: Yellow
Ages 12 to 17, $39 a day, 7:30 - 5:30 pm - Color Group: Orange
Advanced Group: Children that have been certified in our Camp program. Color Group: Pink/Brown
(Camp hours are 9:30-3:30, early and late hours are considered "chore time" where Campers will be helping, feed, clean, bathe, etc in the barn)
Ask about our 2 Week Horsemanship Certification Program!
Each child is assigned their own horse daily - We ride up to 2 times a day and have up to 2 lessons per day. Our trail rides go out across our creek and onto 300 acres of property, our lessons are either held in the round-pen or in the arena. Fridays we host a horse show for all our Campers to show case the skills they have learned while here at the Ranch.
We send out for lunch (pizza, or Subway, or fast food) cost is $7.00 and includes a drink. Or, you are welcome to have your child pack a lunch, snacks and plenty of drinks. We have a refrigerator in the classroom so your child can store their lunch and there is a soda machine and vending machine in the office so they can stay hydrated through out the day.
Long pants and closed-toed shoes are recommended for safety. Please also bring a change of clothes to swim in. Helmets are required for children under the age of 16, you may bring your own or wear one of ours.
Camp T-shirts are available in the office and are required. The price for a camp t-shirt is $15 or 2 for $25 ($5 savings) Camp Workbooks are required to be certified in the program, they are $10 each. Please plan on purchasing both of these items.
Spots for our Camp program are very limited so early sign up is strongly suggested. You MUST pre-register your child for ALL days of camp they wish to attend. Please download our camp application and riding waiver and mail or email them to us
itbhorseranch@gmail.com
completely filled out to pre-register or call our office (813) 264-1919.
If a child isn't registered and you choose to changed a book day of camp so within 72 hours, a 50% fee will be charged.
During the School year don't miss out on spending time with your favorite horse! We offer a
lesson program
customized to each child. Continue learning to ride even while there isn't camp! Please call our office for more information (813) 264-1919. Western, English and Driving lessons available.
---