The Ranch Staff
Lynda Fowler is the founder of our Ranch, (who is now retired), which was founded in 1993 by this wonderful woman, who brought her love of horses and love of children into one place. Lynda Fowler is a retired Hillsborough County Deputy Sheriff. She was awarded Horsewoman of the Month in a national magazine for her work with children and horses. Horses have been apart of Ms. Lynda's life since she was a young child. Ms. Lynda has semi-retired and turned the reins over to Ms. Samantha, who she has mentored since she was 12 years old. Ms Lynda has been teaching children the love of horse's since the 1980's and personally guarantees the horses to be of the finest nature.

---
---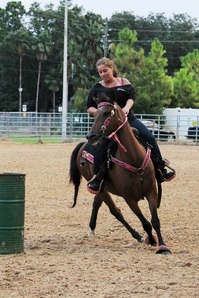 Samantha is our Ranch Manager and has been with the Ranch for her whole life. She has spent her life here, where she was introduced to horses and fell head over heels in love with them. She has owned and loved horses her entire life and spends many hours in the saddle every day. She started training horses in high school and has been active in showing ever since. She is AHSA certified, and is our head teacher and trainer here at the Ranch. She has worked for major barns in the past as well as the local zoo as the head carriage driver with their teams of horses. Samantha gives weekly lessons to all types of students and hauls out to shows almost every weekend where she is always successful. At the Ranch, she has learned that dreams do come true, and it's time with the children and horse's that matter the most.
---
---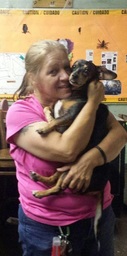 ​Sandy - Sandy is our office manager as well as the Ranch "mom". Sandy started with the Ranch in the 90's, she came to our Ranch with a lot of knowledge in working with people and has an outstanding over the top love for animals. She is great at problem solving and coming up with ways to help the Ranch be successful. Most of the time, this will be the voice you hear when you call our Ranch. You can always find Sandy with her side kicks, Stevie & Buckeye.
---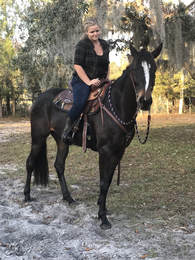 Emily has been around horses her entire life - She grew up riding English and is now our English Instructor - She specializes in hunter/jumper and starts her students from the ground up. She is also a certified guide and our Official Ranch Photographer - She is a great addition to our Ranch and we love having her here with us!
---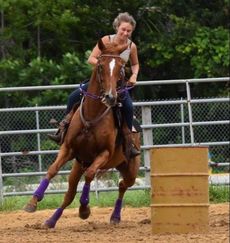 Jess came to the Ranch in 2008 as a camp kid. She continued to come to camp for many years until she was old enough to become a volunteer. She passed every certification and test in our camp program with flying colors. She is an incredibly hard worker and has the love of horses in her heart. She now loves teaching other kids about horses and showing them what inspiring and incredible animals these are. She has also recently found the love of barrel racing and is taking lessons with Ms. Samantha and actively showing. She helped train Wynter, our POA mare and still loves spending time with her and riding her.
---
Justin -
Wayne -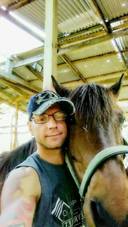 Will - Will has been with the Ranch off and on most of his life - He is on our maintenance team and does a really fantastic job up keeping the Ranch. He is a master carpenter and an all around achieved handy man. He spends time with the horses on his off time and enjoys going on moon lit rides.
---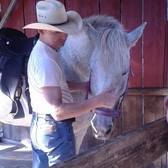 J.T. - J.T. is the epitemy of a true cowboy! He has been in the horse industry his entire life and has been with the Ranch since the early 2000's. He genuinely loves to teach people about horses and has never ending knowledge about these incredible animals! He is a chatter box and will talk your ear off while you're trail riding with him! He is entertaining and a pleasure to be around. One of our top guides and volunteers who we cherish.
---
Shahada - Shahada came riding with us one day and fell in love with horses! She immediatley began volunteering. She is a school teacher as well as active duty so we cherish the time we have with her when she is out here working! She hopes to one day purchase her own horse and board it here with us. She is a quick learner, loves to spoil and pamper the horses and is fine tuning her riding skills every change she gets.
---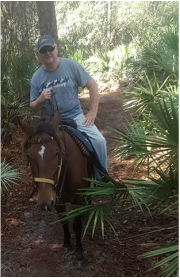 Larry - Larry found the ranch and was hooked, In his retirement he wanted to get back in touch with his favorite hobby, so he started volunteering out here at the Ranch. He has proven to be a great addition. He has ridden horses his whole life and enjoys spending his time out on the trails as a guide. He also enjoys going cow sorting and cheering all the girls on at the barrel races. He has been become a permanent fixture at the barn and we like it that way. He is also a fantastic handy man and helps keep the ranch maintained.
---
Steve Miller of Blue Skies Equine is our Vet - He is passionate about what he does and handles all of our horses with finesse. We recommend him for all of your equine needs. Steve can be reached at (352) 345-1495

Theo Ramsey is our farrier and comes highly recommended! He has such patience and treats each horse as if they were his own. He is extremely knowledgeable and will get your horses feet correct. You can reach Theo at - (515) 868-4030

We also have a variety of Certified Guides that volunteer with us, they are all certified through our Guide Training Program and all share a major love of horses. All of our guides come equipped with their personally owned guide horses.

Our Staff has been in the Trail Riding Business for over 30 years - We schedule a limited number of rides to protect the horses from being overworked, our horses are our number one concern and it shows in each and every one of them. They all have amazing manners and personalities and love to show our customers a really great ride.

Please take a moment to explore our wonderful site and come on in for a trail ride.