Welcome to our Ranch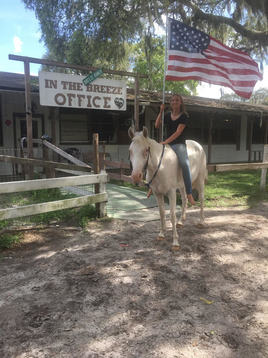 In The Breeze Ranch is an operating large functioning horse ranch that has been in business since the 70's. We specialize in Horseback Riding but also offer a variety of other things to do at the Ranch. Our specialties are anything horses! Such as ranch style parties, hayrides, bonfires, lessons, leasing, equine sales, boarding and horsemanship camp for children. Our purpose in our creation was a Certified Horsemanship Academy starting at age 5. That evolved into "Any day there is no school is camp day at In The Breeze." We teach horseback riding at it's finest for all ages. We are open 7 days a week and would love to show you & your family how to really have some Ranch Style Fun! PLEASE NOTE: Wednesdays' are our herd's day off, but our office is still open and we are open for camp, but closed to the General Public on Wednesday's.

General Public Horseback Riding in Florida doesn't get better then at In The Breeze Ranch. Conveniently located just 5 miles North of the Tampa International Airport, In The Breeze offers Horseback Riding as one of it's main activities. Come saddle up with In The Breeze and let one of our Professional Trail Guides show you what it's like to experience a true adventure on horseback, Thursday through Tuesday.

You will be riding one of our quality and experienced horses that were born and raised right here on the Ranch. They are exceptionally trained, well mannered and experienced in navigating the trails we ride daily. Even for the most inexperienced riders, our horses are sure to take care of you during the length of your ride. Our horses are sure to please. Come take a ride on one of our happy, athletic & well-toned horses - not only will you be glad you did, it's also great exercise!

The trails you will navigate through are beautiful and breathtaking. You will cross a stunning creek that runs through our ranch, ride by lakeside, stroll through the tranquil woods and enjoy Florida's natural habitat in one of the most relaxing ways possible. (Wildlife is present)
Please call our office to make a Reservation - (813) 264-1919
---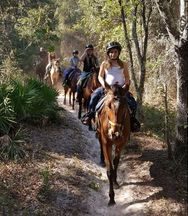 Kids Night Out - Sunset Horsey Party
Come and join us for an evening of adventure for ages 8-17! We invite your kids to come horse around with us for the evening! Please arrive between 5 and 6 pm, pick up time is at 10 pm. Children will need to wear long pants and a closed toed shoe. Our fun-filled evening will consist of a Pizza party, so bring your appetites! During our pizza party we will go over safety around horses and the rules of the Ranch. This is a mini lesson to ensure everyone has a SAFE and fun evening! All kids will get to experience grooming and saddling while we prepare the horses for our sunset trail ride out around our beautiful lake. Each child is assigned their very own horse suited just to their riding level. The night will end with a campfire and marshmallow roast while we tell stories of our ride! The price for the evening is on sale for $69 (regularly $79) OR only $59 if you've completed our two-week horsemanship certification during camp! Spots are limited and by reservation only. Please call our office to signup (813) 264-1919.


---
Bonfire & Hayride Party
There is nothing like the warmth and fun of sitting around a fire to turn an afternoon or evening into a memorable night with friends and family! Come enjoy an evening at our ranch and let us help you make lasting memories! Sit around a bonfire while spending quality time with the people that matter most in your life, followed by a 25 minute hayride that gives you a tour of our beautiful ranch. This party package is $199 for 10 people and an addition $10 per person there after. Does not include food or beverages. Please call our office for more information or to customize your party for you. (813) 264-1919
---
Horse Boarding
(Must sign a contract and a deposit is required)
We currently have room to add a few horses to our Boarding family! We provide the highest quality full care horse board and will treat your horse like they are part of the family and one of our own! We are nestled on 320 acres at the end of a private dirt road. The property is very peaceful and friendly and a trail rider's dream! We have a professional atmosphere that is also enjoyable and fun! We are referred to as one of the friendliest barn's in the area. Please call our office for more information (813) 264-1919 or see our Boarding page for more information.
---
Proper Riding Attire:
We strongly suggest long pants, preferably jeans. A boot preferably or a non slippery shoe (with a heel if you've got one). A shirt or blouse that covers your shoulders, and a riding helmet.
(We have riding helmets available in the office free to use.)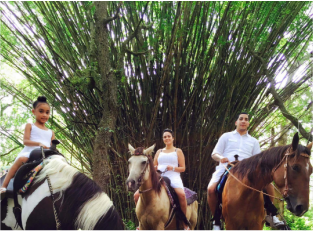 Eligibility Criteria for ALL participants: Horseback Riding is a very physical outdoor recreational activity. All riders must be able to mount and dismount without assistance (if needed) and ride for 5 miles. For your safety, we must caution you that horseback riding is not for everyone. Horseback riding is not at all similar to any other sport activity. Advancing age, obesity, hip and knee replacements, arthritis, back and neck pain, decreased motor skills and other physical issues can certainly interfere with the rider's ability to balance, stay seated or even hold the reins. Participants must be able to understand the language of the attending personnel and follow visual or verbal aid. Participants must have the ability to independently remain seated and balanced on a horse in motion while simultaneously directing a horse's travel and speed for approximately an hour. A participant must also be able to withstand exposure to the outdoors for a period of 90 minutes. All participants must be sober and of sound mind to understand the inherent risks of horseback riding and complete and execute a liability release contract. Please estimate your abilities wisely and/or consult your doctor. You are welcome to contact our office with any questions or concerns with regard to the scope, territory and definition of this activity, inclusion and participant responsibilities.

---